My lovely housemates spoilt me on my last birthday. They organised a little treasure hunt through our house, having me scout for my presents one after another. Little clue here, little clue there, funky cool presents found.
One of their presents was a little box with delicious Lush bath oil melts. It came in a fun(ky) little black egg box, four beautiful pieces. One of my housemates recommended me to try the black one first. At the same time as releasing its sweet scents, the bath oil turned the hot bath water into a murky, turbid liquid. Little did I know the little melt was called 'Demons', to take 'a dip on the dark side'.
In addition to treating myself to the silky soft oil, I pulled out a present I bought for myself on a recent trip to Scotland. A beautiful Loofah scrub, a sustainable alternative to your good old plastic scrubber. This one is completely compostable after use, if you're into that kind of thing (I am!). The Loofah scrub is a weird looking sponge. It exists of what seems to be a maze of little sticks, with a few big holes running along the whole length of the scrubber. It almost looks like the cross-section of a pepper seen from the top. It's quite white and appears fluffy, and definitely has depth to it.
However, when I dipped it under in the murky bath water, it all of a sudden lost its charm. It looked like a thin slice of sponge, with big black holes in it. It looked grey and sad. The deeper it was under, the less recognisable it was. But once I pulled it out again, there was nothing grey or dark about it. All the intricate little lines, all the connections, were clearly visible from up close. From above I could see the end of the Loofah scrub. I could see that it had an end.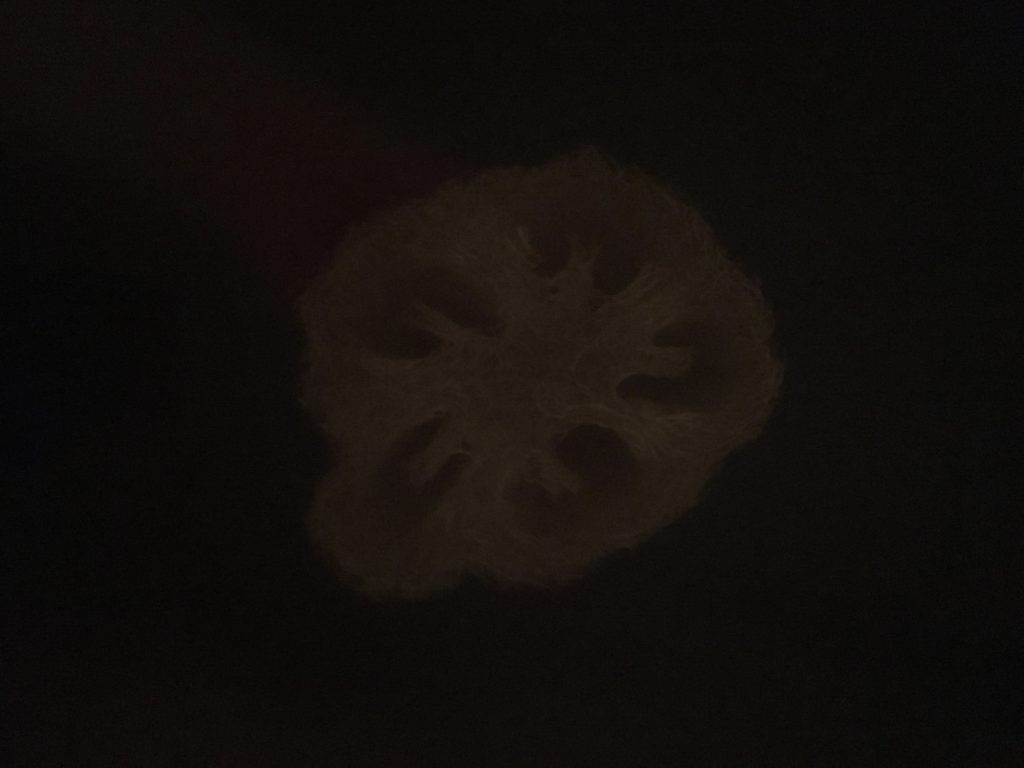 Sometimes we get so frustrated about the one-dimensionality of something. Or about the lack of colour, or the darkness that's visible. Until we realise we've been looking at the thing through a filter, unknowingly adding an unnecessary blockade. And all we have to do is to remove the filter. Pull the sponge out of the murky water to reveal its white colour and its depth.
For me personally, I feel like this metaphor applies on how I've viewed Gods love. I am slowly realising that I've thought too little of Gods love. That I considered it smaller and less all-embracing than it truly is. After all, 'neither death nor life, neither angels nor demons, neither the present nor the future, nor any powers, neither height nor depth, nor anything else in all creation, will be able to separate us from the love of God that is in Christ Jesus our Lord' (Romans 8:38-39). I couldn't have put it better myself.
What is it that you've been obstructed to see clearly?