His skin is a testimony of his lifestyle. A beaded skirt is the only cover for his skin, the rest is literally exposed to the elements. Members of his tribe traditionally hunted for capybara's, agouti's and peccaries in the tropical rainforest and went fishing in the river. They grew their own vegetables and were largely self-sufficient. He is a part of the Embera-Wounaan tribe, one of seven indigenous tribes of Panama. Originally from the Darién province, he moved to the region east of the Darién with multiple families.
Parque Nacional Chagres was founded in 1985 in the same region, with the aim of preserving the natural forest, which helps produce water as a water reservoir for the Panama Canal. The tribes received permission to remain in this national park. However, a national park doesn't offer the opportunities anymore needed to be self-sufficient: villagers can still fish in the rivers, but hunting for wildlife and cultivating crops is prohibited. This change in environment forced the Embera-Wounaan to maintain themselves in a new way.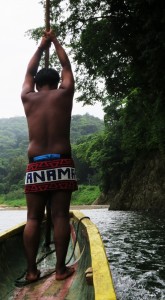 Tourism seems to be a successful alternative. Opening up their village provides them with money to buy the necessities they can now not hunt or cultivate themselves anymore. Aside from that, it enables the tribe to transfer their cultural heritage, and through that tourism helps maintaining this culture. Of course this change also means a change in culture of the villages themselves: the traditional beaded skirt nowadays spreads the love of his country and the women import the fabric of their colourful skirts from Hong Kong.
Paradise
Two Embera members showed us around in what they can call home. One man controls the engine in the back of the sleek boat, the other stands in front. His powerful arms push the stick in the soil, the boat changes direction slightly. Slowly we glide over the undeep water. After enjoying the jungle from the water for twenty minutes, they moor the boat. We walk on a small trial, along a narrow branch of the river we sailed on previously. Climbing and clambering we follow the winding creek. The men have taken us to their paradise, and the video below shows part of this paradise (the music was recorded at their village).
After a deliciously refreshing dive it is lunchtime. When we arrive at the village, the villagers receive us with local music and friendly faces. We arrive in a big hut: a meeting place where high poles support the roof of palm leaves. Small market stalls are set up along the edges, where the locals sell their home-made, beautiful goods. We get distracted by the booths, but the head of the tribe soon calls us: they expect us for an introduction into their traditional dance and music. View the video below to get a sense of the experience they gave us.
Perspective
The delicate balance between showing interest in a culture and tourism was kept at the Tucipono village. I have resigned myself in the fact that the trip to the indigenous village nevertheless has a slight touristic aftertaste to me. During the preparations of my journey, I already knew I wanted to learn more about these indigenous tribes and wanted to visit them. It helps to know that my money helps to provide them in their subsistence, keeping them from hunting wildlife in the national park.
The visit has taught me something else as well. Like Bert (Egbert G. Leigh Jr., emeritus senior scientist of STRI) put it during one of our dinners: traveling gives you perspective. How can it be that I love and respect the own culture and language of a community so far from home, while I didn't appreciate that in a similar way back home? I'm sorry, my dear Frisian friends, that it took me 25 years and a transatlantic journey to see that something like that need to be cherished.
Disappearing languages
Barrett (Klein, professor at University of Wisconsin-La Crosse) thought it was curious that I had to travel all the way to Panama to draw that conclusion. I however, agree with Bert: it's all about perspective. Brought up as the daugther of a dad native to Groningen, a healhty Friesland–Groningen conflict was part of my upbringing. Friesland is a Dutch province, which borders my province of Groningen. Friesland has its own language, which is difficult to understand for outsiders (e.g., me). To give some perspective just how difficult it is for me: in the Netherlands we speak Dutch, in Belgium they speak Flemish (a variant of Dutch), and in Friesland they speak Frisian. Flemish is more easily understood by me than Frisian, while the closest Flemish town is about 300 km (± 185 miles) from the city of Groningen, and the nearest Frisian town is almost a tenth of that distance: 30 km (18 miles). From my perspective, the Friesland-Groningen conflict my dad brought me up with has mainly to do with this difference in language, and the fact that people from Groningen prefer to hear the Dutch standard language, the standardized version of Dutch which is taught at schools.
It might feel innocent to me, but social environment can have a negative influence on transferring culture and traditions. National Geographic recently mapped how many languages worldwide are on the verge of disappearing. Why? National Geographic phrases it like this: "As big languages spread, children whose parents speak a small language often grow up learning the dominant language. Depending on attitudes toward the ancestral language, those children or their children may never learn the smaller language, or they may forget it as it falls out of use." Luckily the Frisian language, with over 400.000 speakers, is still pretty widespread. The Embera language is doing slightly worse with 100.000 speakers, but the Colombian language Sáliva is seriously threatened with a mere 1.500 speakers. Even though, I solemnly pledge to have more respect for my own native cultures.
Adventure
Hadn't I left Groningen for this scientific endeavour, I might not have gained this wisdom. Variety is the spice of life, and perhaps also of thoughts. As I've come to realize, life covers both culture and nature. For example, more than once I've complained to the people here: 'I'm going to miss the Panamanian nature so much when I get back to my boring, cold Pays-Bas!'. But lets be honest, how much energy do I put into exploring the Dutch nature? Surely it costs more effort than in the tropical rain forest of Panama, but that doesn't mean it can't be beautiful. Hereby an invitation: who shows me his or her favorite place in the Netherlands when I get back? (After all, I have less than half of my time here left!) Despite whether it's Groningen, Friesland, or an other province: will you take me on a Dutch adventure?